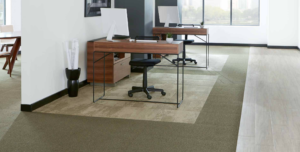 The carpet is a major component of a condominium aesthetic. You may feel overwhelmed at the thought of selecting the wrong carpet but selecting a carpet does not have to be a chore, at Americarpet We make the experience enjoyable for our customers. Juan Werner with 37 years of experience in flooring and interior design will help you to choose your carpet.
When you are looking for commercial hallway carpet for your condominium the first thing is to define the traffic that the carpet would have, generally different hallways will receive a lot more traffic than others, Because of this it is important to pick a carpet that is durable enough to stand your needs.
Offering understated simplicity and texture in a sophisticated palette, Formwork provides a practical and timeless coordinate to a wide selection of Milliken collections globally—made easier by coordinating colors using our Color Reference system.
The functional modular tile provides a full range of solutions. It can be used as a modern, full-field solid, define circulation or act as a translation between patterns.
Formwork is available as standard with Comfort Lite cushion backing in all colors. Milliken's Comfort Lite cushion backing with 90% recycled content provides very tangible health and wellness benefits. Enhanced acoustics, underfoot comfort, and appearance retention Up to 50% more noise absorption than hardback
Up to 40% reduction in impact sound
Up to 24% reduction in leg muscle fatigue Up to 50% extension of the carpet's life
The simplicity of form truly defines function. Refined to the elemental, the structure is both clever and quiet. The mood adapts and configures to those who occupy it, becoming a place of making and doing or just one of reflection and peace.
You can find 60 different samples of commercial carpets for condominiums in Americarpet 364 NE 167 ST Miami, FL.
Call Juan Werner President of Americarpet to help you with everything related to flooring at 305 945 2973