In these modern times, the interior design of libraries can be a valuable community or school resource for everyone to enjoy.
They are three basic design elements that are considered essential for creating a successful library facility, Acoustics, light, and color, once you managed to integrate these three elements in one amazing design the result would be modern, efficient, and functional.
We find three examples of amazing library designs:
Bothell library. Bothell, Washington, USA
This flooring choice helps create a cohesive color scheme throughout the space with the paint color of the walls and the addition of white tones.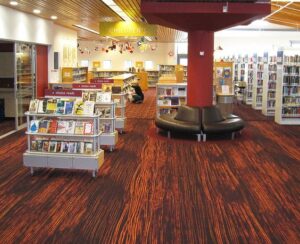 Vashon library. Vashon Island, Washington, USA
This design maximizes the impacts of their glass exteriors with a selection of relaxing floor colors, making a great integration between exteriors and interiors.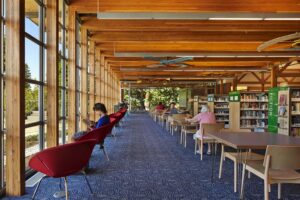 Cornelius Innovation lab at Cornelius Elementary School, North Carolina, USA.
The bright colors on the walls complemented by the carpet are particularly appealing to young students, a great design for an elementary school library.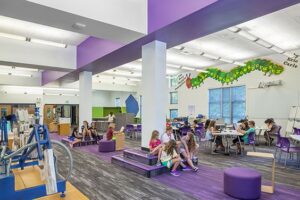 I hope you liked our blog, remember that we are here to help you find the best commercial carpet!
Americarpet Inc
364 NE 167 ST Miami, FL 33162
305 945 2973 / 305 978 2973
sales@americarpetfloors.com