Let us start by saying that contact with the floor creates more physical stress on the body than people think, and of course, there are more things that can be far more destructive than walking or standing, but we walk and stand every day of our life's, in the workplace, in our house, in the mall, in the grocery store, in the pharmacy, and the list goes on, that's why the cushion or backing of certain floors especially carpet matter so much.
The University of Pittsburgh did an independent study showing that cushion backing decreases muscle strain by 24% when compared with hardback carpet. Comfort-related factors can enhance overall mood and Improved productivity, which has clear economic implications for employers as well as for employees.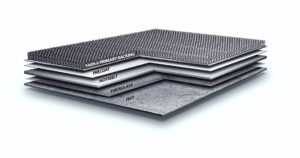 There is a rising trend in the workplace for the sit-to-stand configuration and it is driven by concerns about health. Studies have shown that getting workers out of their chairs can lower the risk of weight gain and heart disease, and a reduction in back pain.
This increase in standing and walking should encourage an added focus on floor coverings. Your carpet at home probably has a nice cushion underneath to make it more comfortable, and we should provide those same comforts in the office.
The cushion back makes the difference and at Americarpet we work with the main factories that have this type of cushion available for your commercial project.
Americarpet Inc
364 NE 167th ST Miami, FL 33162
305 945 2973 / 305 978 2973
sales@americarpetfloors.com